Open Letter to NASW Members
Dear NASW Members,
The Research about EMDR
I'd like to share with you what research reveals about EMDR results: EMDR has been shown to overcome a single event trauma in one to three ninety minute sessions for 80-90% of the clients. It has been shown to help with more complicated clinical presentations in 1/3 to ½ the time of CBT, with similar success rates, far less homework, and far lower drop-out rates. This is particularly appealing to people who don't like to talk, such as veterans, some sex abuse victims and adolescents.
Over 30 randomized control studies showing the efficacy of EMDR have been published to date. Since the first study was published in 1989 by Francine Shapiro, Ph.D., over 400 additional research studies of varying kinds have been published.
I invite all social workers to review the research about EMDR easily by using the link below. If you agree with its thoroughness as I do, we can then consider becoming the leaders in integrating EMDR training into Social Work graduate education programs. This link gives a sample listing of the literature on EMDR, and the organizations that have accepted EMDR,
please link here to see a 2013 research review
EMDR has been accepted for the treatment of PTSD by the World Health Organization, all major insurances and major professional associations with at least one exception: NASW. This is not NASW's fault. Social workers who practice EMDR have overlooked this important step til now. We are embarrassed, to say the least!
But, no time like the present to correct an oversight. Let's do it for Jane — Jane Addams — your heroine and mine.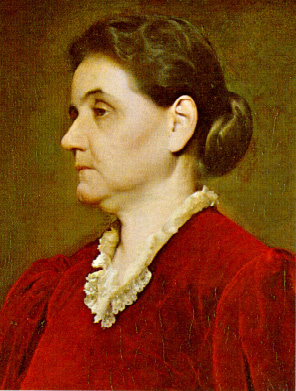 At this time, NASW has the opportunity to become a professional leader by first accepting EMDR for the treatment of PTSD, and then encouraging the addition of thorough EMDR training to Social Work Master's programs. At a select number of universities, this is occurring. The majority of psychotherapy provided in the United States is provided by social workers. We are the field interested in the well-being of large groups, including under-served populations.
If you would like a quick, user-friendly, 3 min. introduction to EMDR for Social Workers, please check out a YouTube video I made on the subject:
3 Quick Points NASW Members Should Know about EMDR
Increasing Access to EMDR for Underserved Populations
Training Clinicians Serving these Populations:
Underserved populations include the military, veterans, low income individuals/families, and those hit by a major disaster.
Many EMDRIA-Approved EMDR Trainers are willing to offer low cost trainings to non-profit or community mental health organizations. There are three ways to locate these trainers, many of whom will come to your agency to help you save travel expenses as well. Currently, you can contact EMDRIA-Approved Trainers individually from the complete list found at the EMDR International Association website, using this link:
EMDRIA-Approved Trainers
In early 2014, a new website representing the Network of EMDR Trainers will be operational. All are EMDRIA-Approved Trainers*. They intend to be a resource for private practice practitioners, as well as clinical staff at non-profits. When their site is up and running, you will be able to make a request for a lower cost training at your agency or community, and they will send the request to all their trainers and ask who could respond. Thus, it will save you a lot of footwork by email or phone.
Trauma Recovery Inc. also provides EMDR trainings plus required consultation to licensed staff at community mental health settings. This may save costs to participants of travel, hotel and food expenses. Additionally, they offer trainees consultation for the practice of EMDR therapy, advanced trainings in EMDR and dministrative support for agencies interested in becoming an EMDR trauma-informed clinical setting.
It is recommended to contact all of the above avenues to EMDR training to see what would work most beneficially for you and your agency.
Serving Those Hit by Major Disaster or Mass Trauma:
Trauma Recovery has added a new mission: to activate groups of local EMDR therapists willing to give pro bono EMDR therapy focused on a large scale local disaster, for up to 5 sessions. These groups are called Trauma Recovery Networks. Please contact
to see if there is a Trauma Recovery Network in your community. The number of networks is quickly growing, so please check back periodically if there is not yet a network in your vicinity.
*The Importance of EMDRIA-Approved Trainers:
As EMDR becomes more and more known through convincing research and results, other organizations have become interested in providing trainings. If these organizations are not on the list given above, they are not EMDRIA-Approved. Some do not even require that practitioners be licensed clinicians. EMDRIA requires this, because we are working with some of the most vulnerable clients. We must be fully prepared to help them recover as fully as possible. Thorough clinical knowledge and skills must be a part of that.

At least one training organization has offered brief EMDR trainings by trainers with weak credentials, staffed by practice facilitators that are not therapists. You deserve better. I myself have found the EMDR trainings to be the thorough and high quality. If you want to become an EMDR therapist, you deserve that same quality experience, so that you can become a very confident and competent EMDR therapist. After I took my Basic Training (two weekends) it took me several years to gain the status of a EMDRIA Certified EMDR therapist. Progressing slow helps you integrate thoroughly, and makes it affordable. That process gave me 20 hours of consultation with a very experienced EMDRIA-Approved Consultant. To keep my certification current, I must also take 12 credits of advanced EMDR training every 2 years. This is valuable to me because EMDR keeps growing. Protocols for added applications, such as Phantom Limb Pain, the Feeling State Addictions Protocol, and the Early Trauma Protocol help me to help greater number of people in a way that is very rewarding for me.
Opportunity for NASW
At this time, NASW has the opportunity to become a professional leader by first accepting EMDR for the treatment of PTSD, and then encouraging the addition of thorough EMDR training to curricula in Social Work Masters programs. At a select number of universities and fields, this is already occurring. The majority of psychotherapy provided in the United States is provided by social workers. We are the field interested in the well-being of the whole population, including under-served populations.
Please join with me to call for an NASW Forum on EMDR. Just send a simple note requesting an NASW Forum on EMDR to your Chapter and the national office. If you wish, you are welcome to copy and enclose this letter and the Fact Sheet on PTSD written in honor of Veteran's Day by the EMDRIA President, Kate Wheeler, PhD, RN.
Here is the address I promised in the video for the National Office of NASW:
National Association of Social Workers
750 First Street, NE, Suite 700
Washington, DC 20002-4241
I will be deeply grateful to you and so will the countless people who will discover EMDR through NASW and its members.
Many of my clients say comments like this one: "I wish I learned about EMDR long ago!" That is why it is my mission to take steps like this to help many more people learn the facts about EMDR, increase access to EMDR therapy and refer to a Certified EMDR Therapist for EMDR treatment when appropriate.
Sincerely,
Dana Terrell, LCSW
EMDRIA-Approved Consultant