Fruit Salad Trees and Value of Seeking an Expert
by Dana Terrell, LCSW, EAC
Dear Reader,
This is one of the longest articles I've written for ComprehensiveTherapyApproach.com, because it comes with much inspiration both about the story shared by Amy in italics below, and our fruit salad trees. If you don't have time for the full article, please scroll down to the last 3 points and the Epilogue.
The author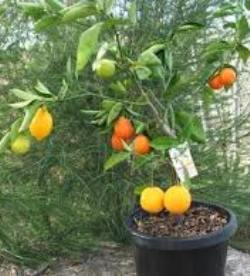 We are celebrating Spring by hovering over our newly planted fruit salad trees like parents of newborns.
We feel their joy in (finally) settling into their new home prepared with love and intelligent guidance to be optimum for long term health. Each new leaf and flower, now pouring out quickly due to the comfort of being snugly set in soil with as good drainage as our southern California clay, er soil (I guess, says the native Minnesotan who is used to rich, black soil) allows. Yet, these trees would not survive in Minnesota!
A fruit salad tree, if you have never heard of one, has several varieties of harmonious fruit trees grafted together. Our citrus has Valencia Orange, Navel Orange, Mandarin Orange, Meyer Lemon and Lime. The stone fruit tree has a base of Peach, with Apricot (my favorite!!), Nectarine and Plum. I've wanted these for years after first hearing of them. They are only available for a limited time around Christmas and New Years. So often we arrive before or after the supply has arrived, since the schedule of activities is so full around those holidays.
Check out the YouTube video I just posted about our Fruit Salad Trees and EMDR:
Because we learned that citrus in particular, needs very good drainage and we've had a problem of our neighbor's rain downspout runoff flooding our garden, we were anxious to see if our damming solution was effective before planting the $180 "5 ring citrus circus". We literally created a dam to keep out their water, and had to see if it "held tight" before risking our new baby being drowned. A recent 1 ¼ inch rain gave us the answer: our dam had a few leaks that needed reinforcement but worked pretty well.
Still being nervous, first time fruit salad parents, we attended a class on Trees at our favorite nursery in the Point Loma neighborhood in San Diego. We gained a wealth of info, and a little added anxiety that helped us be more informed about all that we do not yet know (have you ever had that experience?).
We decided to hire our teacher who has a business as a tree consultant. For $160 in one hour on Saturday morning, he answered all the questions we had, and the ones we didn't know to ask.
He also gave an expert pruning job to our little trees. You see, fruit salad trees are grafted onto a very strong and vigorous stock that can easily dominate if allowed to do so. Quickly it can create the top canopy of leaves and block the sun to all the other varieties, which become stunted and eventually pretty nonfunctional. He taught us how to help each section of the trees to have their own quarter or fifth of the canopy, how to prune back the vigorous sections so the slower sections have a chance to catch up. We are instructed that each time one of those vigorous branches grows to 3 feet in length, to cut it in half. Wow! He gave many other specific tips on how to maximize drainage for these trees and we promptly dug in to get the babies planted by the end of the day.
The value in seeing an expert?
1.He helped our investment of $180 to bear 5 fruits in the future instead of one. He said that for people who don't properly care for these trees, they would be better off buying a single fruit tree for $80, because they will soon have a single fruit tree anyway.

2.He helped us make sure the babies would not be drowned in any way in the future.

3.He let us know that our poor Valencia Orange, which is just a 4 inch long stick, will need extra advantage and care to be able to bear fruit in 5 years. In our ignorance and lack of choice – we got the last fruit salad citrus they had – we actually bought this a tree that somewhere along the way had lost most of the Valencia Orange branches.
You are asking: What does this have to do with therapy?
Aren't we all like growing plants? Don't we all need the care of warm sunshine, enough hydration and nutrients, and fertilizer to thrive in a good environment? And how valuable is it to seek the protective guidance of a caring expert who has devoted years to developing an extensive knowledge base and skills to help people heal and thrive?
The value in seeing an expert in EMDR:
1.Therapy is an investment that you want to bear fruit in the most balanced way. To me, an EMDR expert is an EMDRIA-Certified EMDR Therapist – the only kind we invite to join ComprehensiveTherapyApproach.com. This is the highest standard of any EMDR Directory I have seen. An expert can help you reach your goal in the most direct way, avoiding pitfalls and wasted time. Many of my clients comment that they have spent years talking with therapists they love, but they are not better. Some even say they are worse: "I started out with panic and now I have agoraphobia, too." I told this client that before she had the panic, she had untreated PTSD.
2.An expert can help you make sure you do not get worse in the future because issues actually get resolved, and you regain what Francine Shapiro, PhD (originator of EMDR) calls your brain's Adaptive Information Processing system. Here is a post by Amy about the difference between treating a problem and managing it:

a.

I am amazed with my results fromOverwhelmed with anxiety and panic on a daily basis, I thought I was out of options. I had been to talk therapy regularly, but with little to no improvement. That all changed when I began seeing my EMDR Therapist. EMDR is successful because it works with your brain; how your brain stores trauma, and the ripple down effects of untreated trauma (ie: anxiety and panic.) Upon meeting my new EMDR therapist, I was diagnosed with PTSD. My panic attacks were directly related to my PTSD triggers. It was such a relief to hear this diagnosis. During my first EMDR session, she told me that she thinks panic can be treated. I've been to 3 different therapists and none of them told me it could be treated. Managed, yes. Treated, no. So naturally, hearing the words "treat panic" was a symphony for my soul. After a list of therapy goals and roughly 12 sessions of EMDR later, I can honestly say that I am panic free. I feel a constant flow of positive energy through my mind and body, and my thoughts are so much clearer now. Amy, age 26, San Diego

3.

In our ignorance and lack of choice – we got the last fruit salad citrus they had – this is something we don't want to say about the therapist we choose, do we? How sad would that be? I have created this website, and tried to educate the public, so that none of you who are reading this will ever feel that they chose a therapist out of ignorance and lack of choice. Instead, this website gives you a wealth of education about EMDR through two home page videos, a very informative Home Page, For the Public section, and Articles and Resources section. But even more important than that, each therapist is either EMDRIA Certified or one of the Approved Consultants who help to certify therapists who have taken the Basic EMDR Training. Yes, that training is thorough and the best I've ever taken. But, EMDR is an 8 step protocol. Human nature being what it is, we need a little hovering over until we learn to include each step in the treatment of the client. This keeps the client from becoming flooded during the possible rain storms of trauma that they are processing toward resolution. But without being hovered over by an expert, I can tell you many disappointed EMDR clients have come to me telling me: "no wonder EMDR didn't work for me in the past, my therapist didn't do Safe Place or Container", or "my therapist advertised as an EMDR expert but never did it with me in 8 sessions without any good reason for that". Some clients got traumatized by diving into the EMDR work without having been properly prepared. They were not ready for the intense emotions they felt, and didn't know how to communicate it so the process could be slowed or stopped. So, we had to process the trauma of their bad experience with EMDR before we could tackle the goals that they had been pursuing for so long.
I share all this because I want you to steadily grow in the most balanced and healthy ways, like our fruit salad trees will hopefully do. EMDR is an amazing therapy. We EMDR therapists share the joy of watching people blossom and grow right in front of us, and hear about the reports of the ways they are growing in between sessions as well. Do you know that there is research underway in Pakistan that is revealing that compared to CBT and no therapy, EMDR causes more Post-traumatic Growth. In fact it is the only one that causes a statistically significant growth. They found that at the completion of therapy, EMDR clients had statistically improved:
FACTOR I: Relating to Others

FACTOR II: New Possibilities

FACTOR III: Personal Strength

FACTOR IV: Spiritual Change

FACTOR V: Appreciation of Life
This is why I recommend choosing an EMDRIA-Certified EMDR therapist, someone who continues to add to their education and skill base with 12 credits of advanced training every 2 years. I have seen many people advertise as "experts" on the internet locally, but I have never seen them at a local advanced training. The only way to know if a person is truly experienced and skilled in EMDR is to ask: "Are you Certified by EMDRIA in EMDR? Then you are assured that they get ongoing education in the tremendous advances happening in EMDR all the time. You know that they were coached on their practice of the Standard Protocol by their Approved Consultant in 10 hours of group consultation and 10 hours of individual consultation. This background assures you gain the full benefit of the research on EMDR that has proven its efficacy.
All of this care in choosing and working together with your EMDR therapist, giving honest feedback along the way so the therapy can be tailored to you in a "client-centered" way, can yield for you not just resolution of the issues you came in with, but this positive side effect: 5 varieties of strength that harmonize together well, creating a life as productive and vibrant as a healthy fruit salad tree! Bon appetite!
Epilogue
We will ask our expert back in a year to oversee our pruning efforts and make sure the next one is optimal for future success.
Similarly, once your EMDR therapy has achieved your goals, do not forget about your therapist. It is a very good idea to come in if you get triggered in an unforeseen way to your old trauma, or if you have a new difficult experience or loss. There is an excellent Recent Event Protocol that can help you return to more optimal functioning even when you are in crisis. Why endure too many sleepless nights, overwhelm, grief or feelings of helplessness? One, two or three sessions with the therapist you trust, who knows you , can make a big difference in getting back into balance after a new event that distresses you greatly.
Of course we hope such things will not happen to you, but life with its ups and downs does seem to throw us some curve balls. Having an emergency plan in place to come in promptly when such things happen is just as wise for emotional earthquakes as for geological earthquakes, for emotional storms as for hurricanes, and for emotional numbing as for howling blizzards.
I am only giving you advice that I myself follow. Yes, EMDR therapists do get EMDR therapy on an "as-needed" basis. The best EMDR therapists are those who "do their own work" (with their own EMDR therapist). We believe in it. And we thrive personally and professionally because of it. Very gratefully!