by Dana Terrell, LCSW, EAC
NOTE:  To share this article through your email service provider or to create a "Print-friendly" copy, please 1) click on the "Plus Sign" in the social media icons in the upper left of the screen and 2) click on your preferred option.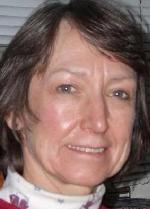 It's my pleasure to introduce to you Katie O'Shea, MS, LCPC, LMHC.  Katie is a long-time practitioner of  EMDR therapy.  She is also an EMDRIA-Approved Consultant and trainer.
I just attended Katie's valuable workshop "When There are No Words" on the EMDR Therapy Early Trauma Protocol she developed with Sandra Paulsen, PhD.  It was held in La Jolla, CA on November 9 and 10, 2012.
Katie had the courage and grace to humbly share that the EMDR Therapy work she did on her own birth trauma (with her EMDR therapist) made the difference in recovery from her chronic fatigue.  She now happily reports she is one of the healthiest people she knows.  She's getting Medicare at this point and expects to live to 120.  The good news for EMDR therapists and their clients is that she has no plans for retirement!!
I found the protocol and her example very exciting and hopeful.  Those who have experienced early trauma or neglect have more chronic health issues than the general population (see Kaiser ACES Study).  Thus their need for hope and healing is deep.  Udi Oren, president of EMDR Europe, believes that the future of EMDR will focus on health.  Many EMDR therapists are witnessing their clients with chronic health issues getting better the more trauma they process.  I have gratefully seen this in my own clients and look forward to more progress with the help of the EMDR Early Trauma Protocol.
Katie shared an article from the EMDRIA Newsletter, Vol. 5, Issue 3, September 2000 by Brian Lynn, MD.  He finds that processing an earlier period of prenatal time, before the embryo attaches to the placenta, accesses a profound relaxation for many individuals.  One of his patients had rheumatoid arthritis and fibromyalgia.  As a chronic pain sufferer, she had tried countless methods of relaxation for years but never succeeded until this method.  She said, "This must be relaxation, which I have never experienced before!"
She was learning to finally take care of herself instead of taking care of everyone but herself.  Her spontaneous positive statements included:  "I think I"m happy!" and "I have been thinking about how I am getting all my needs met."
What is the EMDR Therapy Early Trauma Protocol Like?
1.  It begins with a very gentle and clear method of taking a break from distress and getting into a bodily safe state.  Benefit:  This seems to help "reset" hypervigilance to a relaxed state, trusting your ability to handle real danger if it shows up.
2.  Next stage is "Emotional Circuit Clearning."  This gentle and positive introduction to our emotions is something that I believe nearly all human beings could use.  It helps us learn that half of our emotions are life-protecting and half of them are life-enhancing.  Thus, they are all valuable if we learn to feel them and let them flow through us fairly quickly.  If we try to run away from the protective emotions, thinking they are negative because they aren't pleasant, the sad paradox is that they usually get stuck in us.
3.  Then comes taking brief early time periods and letting the body focus on the time period, to see what it needs to review.  We trust the body to remember, because the brain wasn't developed enough to have clear memory about early events.  After clearing a time period, we go into imagining getting our needs met during that time, and learning the positive self-beliefs that arise spontaneously as our needs are met (even in imagination).
One woman said that she usually got stuck in heavy depression for 4 days minimum at a time. After learning the Emotional Circuit Clearing, she was able to feel sad and depressed for one hour and then it was gone.  She didn't run away from the feelings, and they did, in fact, flow through her more quickly.
A young man said that he has greater energy now that he isn't scared and anxious about his emotions.
A woman wrote a grateful testimonial letter about her experience with the EMDR Therapy Early Trauma Protocol.  To read it link here:
If you have experienced early trauma, physical or emotional neglect, or suspect that you have, I highly recommend finding a Certified EMDR therapist who can offer you the EMDR Therapy Early Trauma Protocol.  In San Diego this includes the following:
Melodee Arnold in Golden Triangle
Nancy Deutsch in Hillcrest
Deborah Donie-Seligson in Del Mar
Sara Gilman in Encinitas
Sue Goodell in Del Mar
Susie Morgan in Encinitas/Rancho Sante Fe
Deborah Nielsen in Solana Beach
Kathleen Rapp in Solana Beach
Nina Stark in La Jolla
Bernadette Talia in El Cajon
Dana Terrell in North Park
Message to EMDR Therapists
If you practice EMDR therapy and have a chance to take the class "When There are No Words – Early Trauma Protocol" I highly recommend it.  The same course is taught by either Katie O'Shea, MS, LCPC, LMHC or Sandra Paulsen, PhD.  Please link here for info about future course offerings:
https://m360.emdria.org/ViewEvent.aspx?id=58670&instance=0
Katie recorded this presentation, so it may be available by video soon.  However you access the EMDR Early Trauma Protocol training, I think you will find it an energizing and fascinating course.  Your clients will be as grateful to benefit from your increased helpfulness to them, as mine are appreciative.
©2012 Dana Terrell, LCSW